Returning for a fourth year, the Golden Rum Barrel Awards recognized exquisite, stand-out rums, as well as individuals, who have made a significant contribution to the rum industry over the last twelve months. Winners were carefully selected by Global Rum Ambassador, Ian Burrell and a panel of experts with awards including 'Best Blogger of the Year', A Mountain of Crushed Ice and Destilerias Unidas S.A. (Venezuela) who picked up 'Rum Distillery of the Year' plus Virgin Gorda Rum receiving 'Boutique Rum of The Year'. 2013's Master Blender of the Year was picked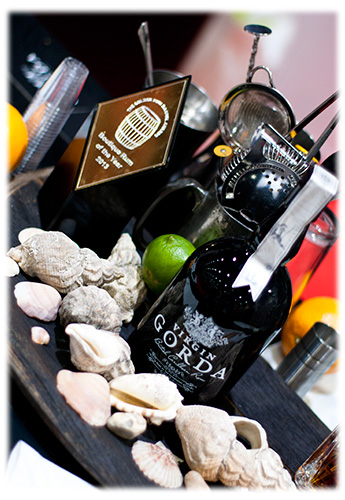 up by the hugely talented Tito Cordero for both his depth of experience and for producing what is, arguably, the finest and most consistent rum with his Diplomático Reserva Exclusiva blend.
The inaugural 'The Rum Experience Hall Of Fame', launched on Saturday as part of the UK RumFest, recognized those who have proved to be a phenomenal force within the industry. Master Blender Lorena Vásquez Ampié's dedication to the promotion of Guatemalan rums, particularly Ron Zacapa to a new and discerning rum clientele was recognized as the first in a number of inductees on the night. Passionate about the art of crafting premium rum, Lorena is driven by her quest for perfection and is one of a small number of female master blenders in the world. Jose Sanchez Gavito has been a master blender for over 36 years and has been pushing the boundaries for new rum throughout his career. After retiring, from making rum in Mexico for Bacardi, Jose then joined the Bacardi Global team to create a new wave of "retro rums" such as the Bacardi 'Heritage edition', which has broken new ground and re-introduced Bacardi rum to the cocktail & mixology world.
Laurie Barnard, Chairman of St. Lucia Distillers, was seen by many as one of the greatest rum makers of his generation. A man with great dreams and ambition for Caribbean rum to be seen as the great spirit, worldwide. He was committed to quality control, as well as diversity in the production and distribution of his rum. Sadly Mr Barnard passed away in October 2012 but his legacy lives on through his rums like Chairman's Reserve and Elements 8. Laurie's award was received on his behalf by London Boxer David "The Hayemaker" Haye.
Master Distiller Richard Seale was awarded for constantly proving that "Rum innovation is rum tradition waiting to happen". Richard Seale is a rum trend setter. A 3rd generation rum maker, he was definitely "born to make rum".
Francisco Don Pancho Fernandez is a pioneering Master Blender and for over 50 years, Cuban born Don Pancho has been involved in making great Spanish styled rum. During the 1970's as director of the Cuban Beverage Industry, Don Pancho helped in the renovation process of the rum industry in Cuba, introducing modern technology, renovating the cask inventories and modernizing the plants and distilleries. He also helped to improve fermentation, production and blending techniques that set the standard worldwide enabling him to travel the world and interact with different spirit industries such as Whisky in Scotland and Vodka in Poland. These multicultural exchanges developed his experience and skill and made Don Pancho the quintessential Master Blender he is today, with a unique and personal touch. Rums like Zafra 21, Ron Abuelo and of course Ron de Jeremy rum has kept Don at the top of his game.
 2013 GOLDEN RUM BARREL AWARD WINNERS:
Boutique Rum of the Year sponsored Imbibe Magazine 
Virgin Gorda Rum
Rum Distillery of the Year
Destilerias Unidas S.A. (Venezuela)
Master Blender of the Year sponsored by Green Engineering 
Tito Cordero
Rum Blogger of the Year sponsored by Don Q Rum 
A Mountain Of Crushed Ice
Rum Experience Hall of Fame Award
Lorena Vásquez Ampié
Jose Sanchez Gavito
Laurie Barnard
Richard Seale
Francisco Don Pancho Fernandez
Ian Burrell, Global Rum Ambassador comments, "This year's Golden Rum Barrel Awards plays tribute to the pioneers within the the industry whether blend or being. Rums rising popularity throughout the world can be attributed to many of these esteemed individuals or brands and we are thrilled to announce such an incredible range of distillers, master blenders, ambassadors and rum blends from all over the world."